"I was a part of the Jewelry world since the time I graduated. It has been more than two decades(20 years) now that I am in jewelry business."
"Jewelry making is my Passion ".

I started my venture at the point where I was just a marketing manager in a Jewelry company in Bangkok.

I got to learn new things every day by spending time with the specialized team from all departments, that is involved in production from scratch to finished product.

The love for Natural stones from all over the world combined with unique designs and my passion has now finally led me to be an owner of my own jewelry company,
MADAME TJ JUWEL CO.LTD.

At MTJ, we create amazing pieces of jewelry; each piece with its own unique style.

Combined with our customer's needs and valuable ideas we are able to create pieces that are one of a kind.

You may ask, why MADAME TJ?

Well, I am proud to say choosing MTJ, ensures you One stop service, including quality control and that your orders are in great and safe hands.
"We put our best in Every piece possible"
Your satisfaction is our happiness.
The Beauty of being Unique.
Fashion changes, but Style is always with you.
Embrace yourself with a touch of Uniquenes.
BE YOU, BE UNIQUE.
Satisfying your needs of being unique.
The type of quality and style only we offer.
Thakorn Singhmahaboon
Founder & Owner of MTJ

CREATIVE DESIGNING
From Antique/Victorian/Southwestern designs to Modern designing is our passion. Our designers take inspiration from Conservative values and cultural understanding which will invigorate your spirit and elevate occasions into unforgettable moments.

HANDCRAFTED
Jewelry is a form of expression, it is the identity of yourself. We our experience and skilled craftsmanship, we emphasize on every small details with combination of both traditional and modern techniques to deliver a fine crafted jewelry that you will be amazed.

Precious Metals
We use durable fine precious metals, we guarantee our production with 925 Sterling Silver used to craft our jewelry, and individually stamped to ensure metal purity. Each piece is hand polished ensuring a luxurious finish.
We make sure throughout the production process to be Nickel-Free and safe to wear.
Making a silver model by using casting process. In order to make many similar pieces of jewelry.

RUBBER MOULD
Rubber mold making. It helps in creating multiple pieces of jewelry of the same design.

WAXING / WAX TREE
This step involves the production of wax pieces from the rubber molds made from the silver master. The rubber mold is placed on the commercial wax injector machine. Molten wax is pressure injected into the mold cavity to create wax models for casting. The process of soldering the wax pieces on a wax stem is called "treeing".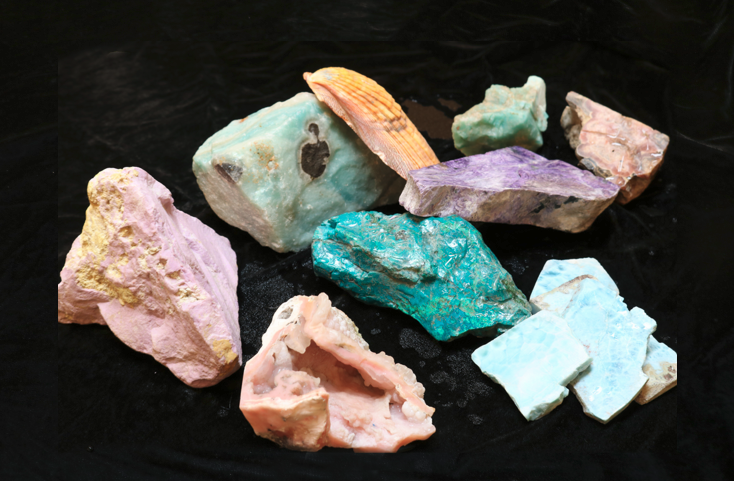 SUPERIOR MATERIAL
Beautiful jewelry starts with quality materials. We source our stones from different parts of the world. We hand-picked our rough material whenever possible or we only buy from selected miners to ensure the quality of the stone, which means all our jewelry contains stones that display natural color and the real beauty of the piece.

CASTING
For casting process we placed the wax tree in steel flask which is then occupied with a slurry of chemical powder which solidify in an hour. The flask is than heated in an electric furnace which melts the wax leaving behind a cavity of tree. Molten metal is then poured into the flasks, allowed to cool, then demolished to reveal the Jewelry in casting form.

FILING
Clipping the raw casting off from the casting tree. Then removing excess metal or solder from a piece that is being worked on. It is a process wherein the casting layer is removed by using different tools like files and burrs. It gives a smooth finish to the piece.

Gems Setting
Putting gemstone and other colored stones, we do hand setting to all our stones to maintain quality and avoid loose stones.

POLISHING
Polishing the jewelry to add shine to the entire piece of jewelry. Our polishing is done only by hand. With hand polishing we can ensure a luxurious finish to all our pieces.

Stone cutting
Cutting the stone into different shapes and designs, we make sure all the stone quality is selected and quality is maintained.

RHODIUM/GOLD PLATING
Plating jewelry with Rhodium/Gold 14k or Gold 18K to give a reflective appearance and provide the piece of jewelry better resistance to scratches and tarnish.

STONE SETTING
Stone setting with experience staff making sure all our jewelry is assorted and the stone color matches to set exactly fitting in every piece of Jewelry.

QUALITY CONTROL
QC the finished jewelry to ensure that the jewelry is mastered with highest quality, and meets customer requirement and standards. The methods that we use to QC jewelry are measurement, visual inspection and mechanical inspection.